Happy National Dog Day!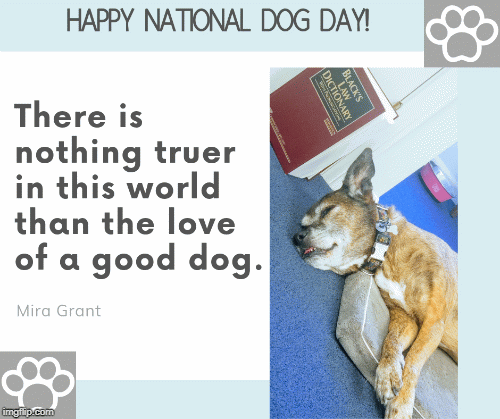 National Dog Day is celebrated on August 26th, but if you ask me we should celebrate our furry friends every day! One of the best things about having a dog in the office is that Harley is always readily available for comfort. While Harley isn't scanning documents or answering the phone, her presence brings an overall calmness to the office. Just knowing Harley is here is a means of social support.
"Why does watching a dog be a dog fill one with happiness?"
—Dwight D. Eisenhower (34th President of the United States)
If you own a furry friend you likely already know that pet owners perceive pets as important, integrative parts of their lives. Research has shown that, "significant cardiovascular and behavioral benefits are associated with those perceptions." Pet owners even have lower blood pressure in stressful situations when compared to those without pets.
Studies have shown that pet owners are less likely to suffer from depression than those without pets. With 1 in 5 adults in the US living with a mental illness; dogs in the office could be transformative for those 46.6 million adults.
But dogs can be more than pets!  For many people, dogs serve the invaluable role of a service animal.  When people think about service dogs, they most often think of "guide dogs" but dogs perform many other tasks, like alerting a deaf person to a ringing phone, interrupting an anxiety attack, or alerting a person with diabetes to high sugar levels.  It is important to understand that there is a distinction between a service animal and a pet.
Service dogs help people with disabilities live with more independence than they otherwise would.  Sometimes, they literally save lives.  Always remember that service dogs are not pets; they are working animals.  They are performing an important task for their person, sometimes called a "handler."  That means they shouldn't be treated as a pet, so don't walk up and start petting them.  It also means they can go anywhere their handler goes, with very few exceptions.
No specific certification is required for a dog to be a service dog.  In fact, service animals can be trained by the dog's owner. The test is not whether the dog has been trained in a particular manner or by a particular organization.  Rather, the test is whether the dog performs work or tasks related to the handler's disability.
For more information on the right to access with your service animal, check out this video series on Service Animals.